INTERIOR ENVIRONMENTS
You name it, we can print it. From ceiling tiles to ceramic, canvas and concrete, the possibilities are endless.
Source One Digital helps you create custom printed interior environments that connect your clients to your brand experience.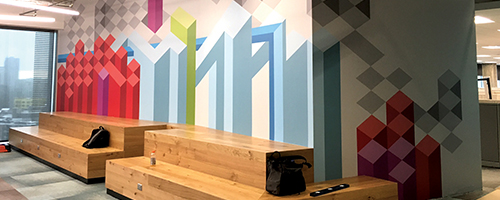 Wallpaper
Create an environment that is uniquely yours. Our custom durable commercial grade wall coverings are available in several different finishes and textures. Custom wallpaper provides an exciting visual experience that can convey your brand essence or message.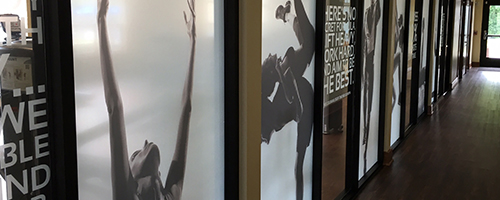 Window Décor
Create privacy, control light, or provide single to double-sided graphics, available in a wide variety of materials. Customize your space with special effects such as etched, frosted, or stained glass.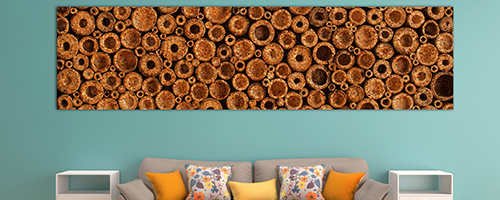 Wood and Cork
Natural materials offer the latest in interior décor. Cork, wood, and others can deliver realistic photographic quality on substrates up to two inches thick. Use these natural materials to cover walls, create custom shapes, or as accents in your space.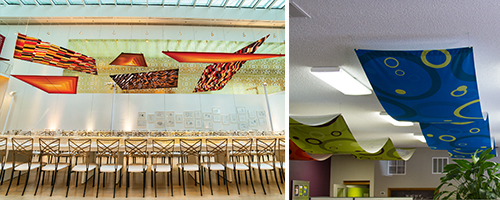 Fabric Décor
With vibrant color and movement, the look and feel of fabric can bring life to your project. Create large-scale eye-catching graphics, or smaller pops of color that are all wrinkle resistant and washable.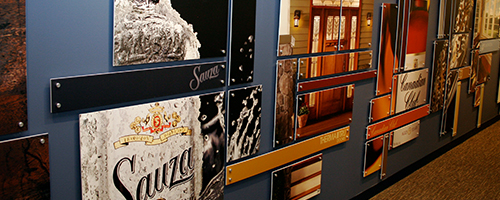 Custom Acrylic with Dimensional Effects
Custom printed acrylics provide a high end feel to your décor project. Using first surface and subsurface printing, you can create unique 3D elements to add visual interest throughout a room. Acrylics can also be routered to various shapes and sizes and can even be used to create free standing objects or displays.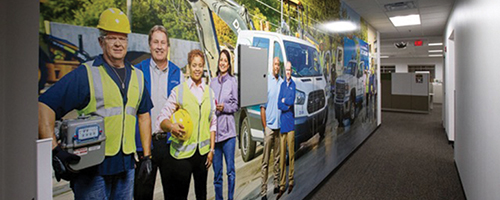 Vinyl Wall Covering
Vinyl wall graphics provide high-resolution photographic quality graphics that adhere to almost any type of surface including even rough concrete or brick surfaces. They are available in various surface finishes and with adhesives that are permanent, low tack or removable.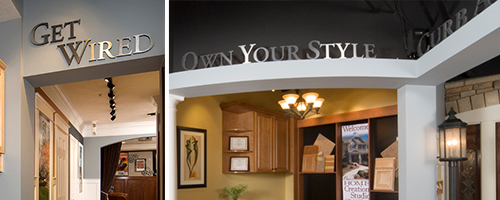 Metal
Add an industrial feel to any space. Choose from a variety of thicknesses and laminate overlays, with multiple installation options.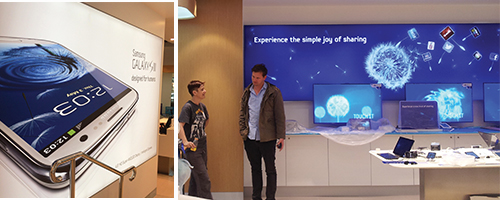 VisiFLEX™
These fabric systems utilize several fabric options with sewn-in silicone beading inserted into custom frames or displays. Graphics can be single, or double-sided, but also built to your specifications, and can include LED lighting systems.
The client can't stop giving us compliments on the wall covering. You killed it! Thanks so much!
-Anthony S., Facility Management
Let Us Help You!
Turn your ideas into custom décor creations. Our team can assist you with the right material, graphic design, and experience to bring vibrant and precise color to every décor project.
We print everything in house to meet every deadline, all with a money back guarantee. Experience the Source One difference today! See some examples below.
The client can't stop giving us compliments on the wall covering. You killed it! Thanks so much!
-Anthony S., Facility Management
Download Product Sheet
I-Frame
The I-Frame is ideal where high quality, attractive, and durable graphics frames are need. The I-Frame is ideal as a sideline frame, for crowd control, or defining event areas. The I-Frames is our longest frame at 10' in length. The frames can also be linked together as needed. Banners can be made to slip easily over the frame or grommeted along the edge to attach to the perimeter of the frame and provides an attractive billboard display of your sponsor signage or branding.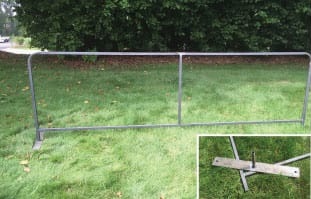 Download Product Sheet
Sidewalk A-Frame
These signs are used to provide information and bring people into businesses, retail stores, or restaurants and are also sometimes called "sandwich boards" or "café signs". They are very portable, affordable, and effective way to get your message or promotion noticed. They can be used with a number of graphics including options that provide whiteboard or chalkboard capabilities.