Feather Flags
Feather flags are a great solution for drawing attention to your business, product, event or promotion.
Also known as feather banners, swoop flags, advertising flags and flag banners, feather flags can be used inside or outdoors. They are often used as sponsorship promotions at sporting events. They are lightweight, easy to setup and can be displayed almost anywhere. The most popular option is a single-sided flag that has a see through mirror image on the reverse side. Double-sided options are also available including the use of different images on each side.
Download Product Sheet
Built to Last
Everything that goes into your flag is designed to make it stronger and eliminate the weaknesses you see in other flags.
130 gram polyester flag knit fabric: It is one of the heaviest you will find, it's long wearing and will not mold or mildew
400 Denier nylon pole pocket: Built to outlast the flag. One of the most critical components making sure the flag lasts and does not rip out
PTFE Thread: PTFE thread does not degrade in the presence of UV light as compared to nylon or polyester. It maintains its strength outdoors, which assures long-term seam strength and fewer flag failures
1-inch nylon pull down strap: Adjust the tension on your flag to give it the right look
Direct to Fabric Printing: The image on your flag is printed direct to the fabric and the ink color is embedded into the fibers, providing a long lasting UV resistant image that will hold up for years.
Composite fiberglass pole: Extremely durable and built to last through multiple campaigns. We use the same pole for each flag type so you can change flag styles by creating new graphics.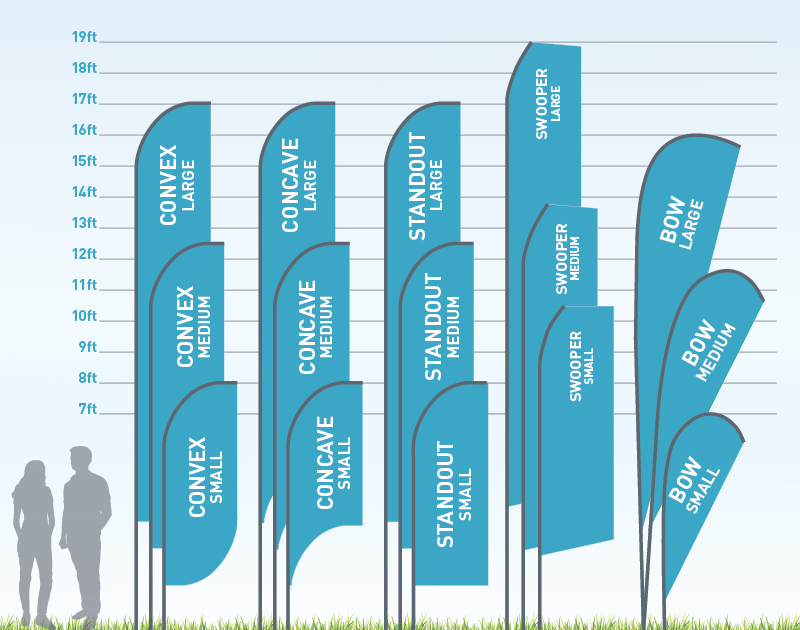 Installation
When assembling the flag, take the largest pole and insert the next largest pole into it until you get the piece with the rounded tip on the end of it. A small flag will include two sections, medium three sections and a large four pole sections. The pole section with the nob on the end will be the top of the pole. Carefully insert the pole up through the pocket in the flag being careful to avoid any snags along the way. When finished, place the pole onto the ball bearing swivel mount on the chosen base. Attach the nylon strap on the bottom of the flag to the pole and tighten to achieve the desired shape.
View the Installation Video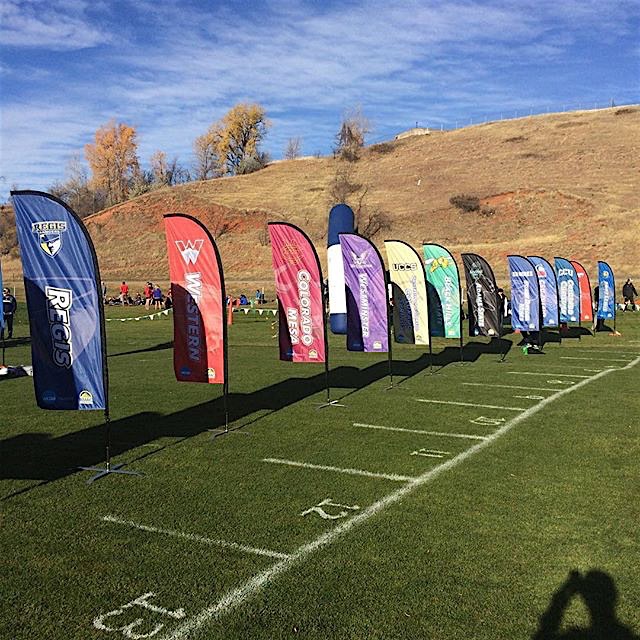 Care
Feather flags require little care. While the flagpoles and graphics are very durable, we strongly recommend bringing them indoors during heavy windstorms to protect them from damage. When storing the flags, store them dry and folded in a cool and dry location. They can be cleaned with a mild detergent and water or machine-washed on a gentle cycle with cold water. Feather flags should always be air-dried and never placed in a tumble drier on a heated setting.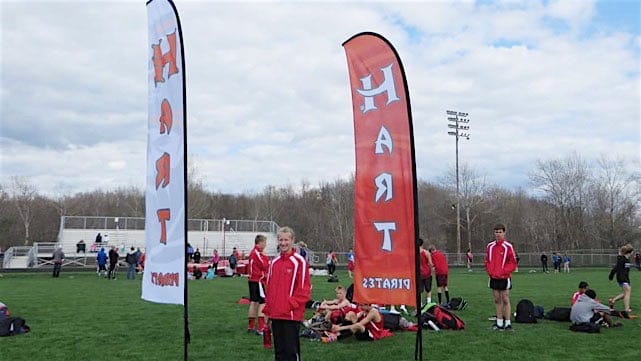 Bases
Multiple solutions for any type of location
Ground Stake
All Steel Construction makes it long lasting. 16 inches of length means it works well in all soil conditions including sand. A Ball Bearing Swivel mount allows the flag to rotate easily, eliminating wrap around and minimizing wear on the flag.

X-Base
All Steel Construction makes it long lasting. 9 lbs. and 33 inches across make it very stable. A Ball Bearing Swivel mount eliminates wrap around and minimizes wear & tear on the flag. It collapses for easy transport.

Water Base
Constructed of durable plastic and weighs 42 lbs. when full. Used for displaying on hard surfaces where high winds or abrasion may be a concern. The Ball Bearing Swivel mount eliminates wrap around and minimizes wear on the flag. Recommended for uses with all large Feather Flags

Water Weight Bag
The bag fits over the X-Base to add an additional 11.25 lbs. It provides more stability to the X-Base when displayed on hard surfaces, in windy conditions or in high traffic areas.

X-Base Water Weight Bag Cover
Available in 14 stock colors or custom printed. Works in conjunction with the X-Base and Water Bag combination. Great for tradeshow or POP where attractive looks matter.